Make Guest Experience A Priority
When the management of day-to-day operations of your cinema becomes burdensome, like most industries, it's time to turn to technologies. You don't just need any platform, you need your platform – one specifically designed with your cinema in mind. Rocket Effect offers modern technologies specifically designed to empower cinema businesses and movie theatres for enhanced operation. We specialize in improving customer experience and attracting more viewers to your cinema through automation. Stay ahead with faster, more flexible, secure, cost-effective, and easily scalable cloud-based solutions that allow you to access and manage your data from anywhere, 24/7. You deliver fun, we provide the software to back your mission.
Movie Theatre Booking & Ticketing Software
Keep bookings enjoyable for movie lovers and make management simple for your staff with a seamless booking experience. Our software also integrates with rewards and discounts programs, credits,  and gift cards, for an improved booking experience. To offer superior service for theatre seat booking software, we partner with leading industry vendors, card providers, and integrate with selected POS software providers.
Your movie theatre ticketing software may offer lots of benefits. For one, you make it convenient for your guests to buy a ticket and book a seat anytime they want. Our platform makes the ticketing experience seamless and creates a better all-around guest experience through automation. Some features of theatre ticketing software we work on include: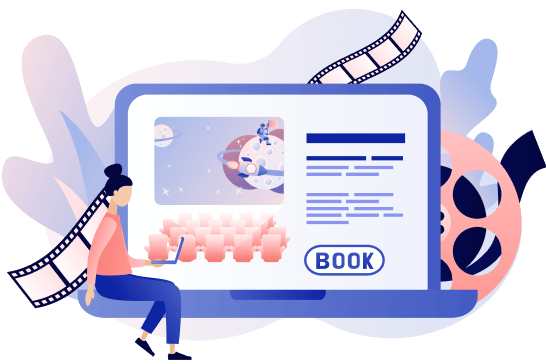 Modern-user interface
Intuitive, user-friendly, with timely pop-up initiatives
Integrates a reliable payment gateways
Manage capacity and social distancing with timed ticketing
Android and iOS support
And more!
Selling tickets to movie lovers is the most critical aspect of a cinema's relationship with customers. To maintain a successful relationship, the ticket selling process must be easy and enjoyable.
Always Make A Good First Impression… At the Counter!
For someone who desperately wants to see a blockbuster movie or enjoy a film with a loved one, nothing is as irritating as having to wait in long lines when you should be relaxing in your comfy seat. It's also not a pleasant experience for the cashiers sweating to reduce lines and keep grumpy customers happy. Through integrations with leading cinema POS software providers, we empower cashiers to keep the line rolling and guests smiling – ensuring movie lovers don't miss a scene. Get your movie theatre a functionally versatile and intuitive POS with high-end features that empowers speedy transactions at the counter!
Get Empowered with Technologies for Pro-level Management
Embrace our sophisticated cinema management platform for seamless management operations and improve customer experience. From seat booking management to processing and delivery of food and beverage orders, every operation is streamlined to exceed guest expectations. Features of our software include:
Integration with cinema POS systems
Data and analytics
Promotion & email marketing
Management of payments & payment processing
Grow your business and manage operations – marketing campaigns, online ticketing, capacity management – from one personalized dashboard. Our platform is designed to integrate easily with other APIs. Whether you have custom APIs or you need a mobile version developed for your managers to carry around, we are happy to build a system perfectly tailored to your unique movie theatre.
Build Irresistible Campaigns
Make seasonal movie promotions part of your larger cinema marketing plan. Whatever your goals and targets are – whether it's to boost membership subscription, sell out your tickets, or increase your contact list – we can help you build killer promotional campaigns to hit and exceed your targets. Our platform integrates your social media accounts into one feed making it convenient to share information about new movies, offers, and packages across various channels. Get a view of your long-term and short-term promotional campaigns across various channels with data and analytics from one personalized dashboard. You can also boost conversion by creating a sense of urgency with TIME-SENSITIVE movie promotional campaigns. Email sending is directly integrated into our platform. Even if you are not ready to keep up with third-party apps for email marketing, we've got you covered!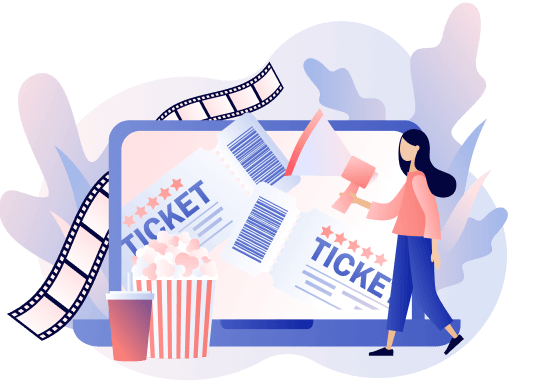 Architect Marketing Campaigns That Drives Sales
Upgrade your cinema marketing plan with Rocket Effect and become the only movie theatre your beloved guests will think about for a thrilling film experience. Top-notch marketing campaigns, online ticketing, seat booking, and customer service management; every operation is thoroughly streamlined and automated to offer an unforgettable guest experience.